In history of Pakistan first time in Punjab largest employment program is going to be launched by CM Punjab Sardar Usman Khan Buzdar Punjab Rozgar Scheme 2023 Those candidates having business in Pakistan or want to start their business will be eligible for this program
The Chief Minister of Punjab Sardar Usman Khan Buzdar has be launched Punjab Rozgar Scheme 2023 Apply Online Which is Pakistan's Biggest Rozgar Scheme In The History of  Punjab Rozgar Scheme 2023 Application from. The major purpose of this rozgar scheme to provide to loan on easy term and condition and as well as career opportunity to Pakistani young having punjab resident to reduce unemployment and increase the business level in pakistan
The government of Punjab Chief Minister Usman Khan Buzdar wil be distribute Budget Punjab Employment Rozgar Scheme 2023 under which loans of up to Rs 10 million will be provided to increase employment in the province. Punjab Rozgar Scheme.
According to Government of Punjab Rozgar Scheme 2023 amounting to almost 30 billion rupees worth of accessible financing, especially for small businesses and young entrepreneurs in Punjab Province.
The Official twitter handle account of CM post a tweet and said this ambitious scheme is intended to boost business activity, especially in the aftermath of the COVID-19 pandemic, providing soft loans and establishing special designated economic zones.
Read: CPEC Internship Program 2023 For Graduates Apply Online
Punjab Rozgar Scheme 2023 more than 30 Billion rupees worth will be given as easy loans to applicants on different criteria fully mention below. The candidates can apply for the loan from PKR 100,000/- up to 10000,000/-
Eligibility Criteria for Punjab Rozgar Scheme 2023
Age
20 to 50 years
Gender
Male / Female / Transgender
Resident
Citizen of Pakistan, Resident in Punjab, verified through CNIC
Business Location
Punjab
Business Type
Sole Proprietor, Partnership, or any business fulfilling other
Account Status
Must have a clean e-CIB / Credit History
Loan For
For startups / new businesses
Business Category
Having a viable business plan
For Running businesses
Having a valuable business plan with a focus to sustain the impact of COVID-19
Documents
Valid CNIC
Qualification
No preferred
Punjab Rozgar Scheme 2023: Simple steps to fill online form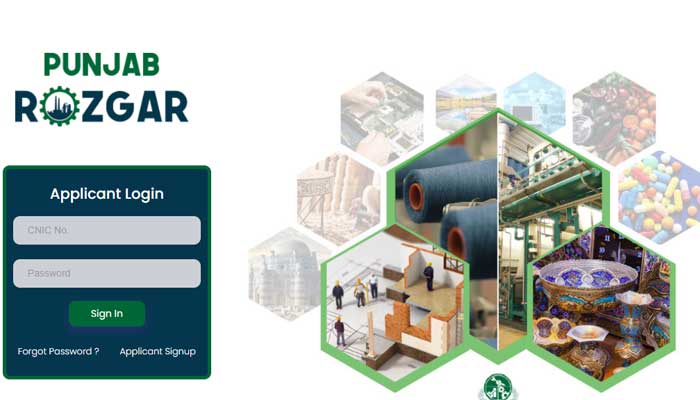 Here is the step-by-step guide for you to fill the for:
Open the Punjab Rozgar Scheme 202 web portal to apply for the loan.
You cannot download the form so you have to apply online.
As you go on the homepage, select the option "Applicant Signup".
| | |
| --- | --- |
| Feature | Description |
| Loan Limit | Upto Rs. 10.00 MillionClean lending: from Rs. 100,000/- to Rs. 1,000,000/-Secured lending: from Rs. 1,000,001/- to Rs. 10,000,000/-Under Punjab Green Development Program, the limit of a loan will remain the same. However, preference will be given to the micro-enterprises, ready to adopt the environment improving technology, having up to 10 numbers of employees. |
| Purpose of loan | Setting up of new businessBalancing, Modernization and Replacement (BM&R) for existing businessesWorking Capital |
| MSME Sector | Manufacturing, Service, Trading, Agriculture and Live Stock(Environment Friendly / Quality Improving Micro Enterprises as defined above will also be considered under the Punjab Green Development Program) |
| Processing fee | Rs. 2000/- (non-refundable) at the time of submission of application |
| Tenure of loan/Repayment Period | From 02 to 05 years including a grace period |
| Grace period | Up to Six (06) Months (However, the markup will be charged during the grace period) |
| Type of loan | Term loan as per bank policy and working capital |
| Cost of Capital | Cost of Capital to be paid by Borrower:4% for clean lending5% for secured lending |
| Debt: Equity | 80:20 (For males)90:10 (Women, Transgender and Differently abled)(Meaning thereby 20% / 10% of the project cost will be invested by the borrower) |
| Disbursement of loans | In installment(s) as per approved business plan |